Arrowhead Point RV Park and Cabins Campground
How I approached marketing this RV Park located in Osceola Missouri.
The owners of Arrowhead Point RV Park and Cabins Campground did not decide lightly to hire an outside source for their marketing. In fact, Caron and Mark had already built their website, cultivated an active Facebook page and claimed their listings on popular RV directories. Despite that, they soon released it was not enough.
As with Arrowhead Point RV, this is what I will do to drive more business to your RV park.
Arrowhead Point RV Park and Cabins Campground features 45 full hook-up, pull-through sites; 5 cabins and 2 clubhouses.
Listen and Learn.
Tell me about your campground. Not just the specifics, but who is your best customer and why? Who would you consider your competitors and why? What do you hope to accomplish hiring me? I want to know everything, that's where we start.
Research.
I then research the business. What is your brand's internet presence? What is your competition doing to promote themselves? How does your business rank running location and keyword searches? As a full-time RVer for more than a decade, I know a thing or two about searching for RV parks while planning a route. I put that knowledge to work.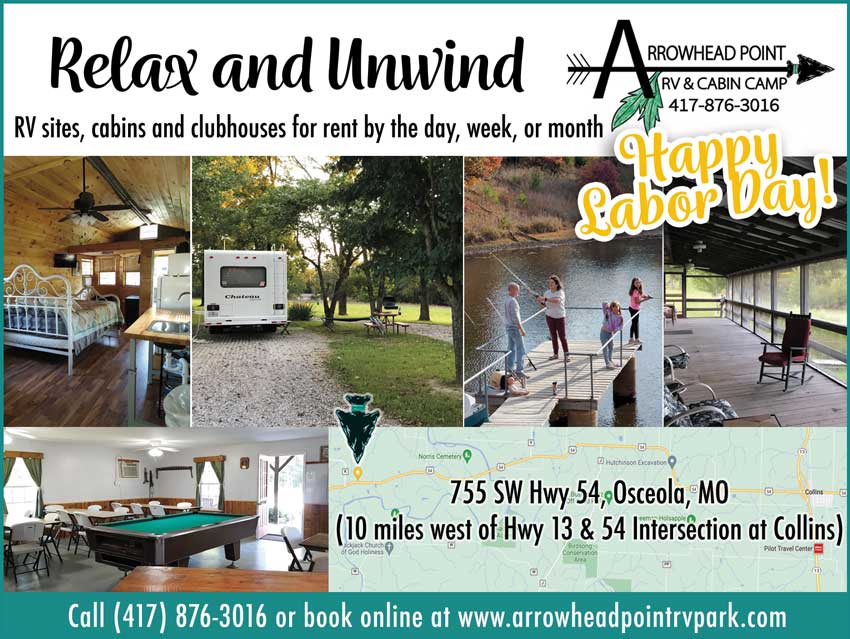 Seeing an opportunity to advertise in an upcoming community gathering, I designed this ad just days after being hired.
Recognize, Organize and Prioritize.
Now that I have gotten to know your business it's time to focus on what needs to be done, and in what order. We will talk about this and tweak it until it feels good to both of us.
One of the most important things I research is the Park's website. Since your website is the only online property you actually own and have control over, working with one that has the ability to customize and optimize for search engines is imperative. In the case of Arrowhead Point RV, the website was built using a GoDaddy product, and while it looked good, it was less than adequate for critical modifications needed. Since my program includes all creative and marketing services for a fixed price, it was decided that the best course of action was to redesign the website ASAP.
Systematically Build Reviews
User reviews and testimonials are critical in building trust and often influence route planning decisions. Adding the Reviews Partner program has increased the frequency of park reviews by 100%. All that is needed is a list of departing guests. Personalized emails and/or text messages are sent out to request their feedback. New review alerts are sent by email, and I personally respond on behalf of the Park to each review. Reviews and responses are added to the website automatically. View the reviews page on Arrowhead Point RV Park and Cabins Campground.

More Ways I'll Promote Your Park
The List Goes On
I'll review and improve your Google Business Profiles for Google Search desktop and Maps
Review, claim, and build-out major RV park search directories
Strategize new prospect markets
SMS Marketing
Site Map Design
Ad Design
Brochure Design
Printing and more!
All creative, design, and marketing services are covered in one affordable monthly fee. Our weekly meetings will keep you updated and often spur new ideas.
Allow me to bring my 36 years of design and marketing experience to your RV park.
Money.
I realize many do not talk about money in articles like these. If you do not feel comfortable spending a reasonable amount every month for a value-packed, quality service, then there is no sense in continuing, right?
So what do I charge?
You will pay a flat fee of $550.00 each month for unlimited creative and marketing services. That means meetings, research, marketing recommendations, website design, graphic design, help with your reservation system, and anything else that involves improving your business's user experience and marketing. Yes, as with anything worthwhile, there are details to consider, which I will gladly explain when we talk.
Ready to learn more? Book an appointment by clicking the button below.